The BBL is a 16-team, continuous-ownership computer baseball league, playing APBA Broadcast Blast.
The BBL has two conferences: the Rustbelt Conference (Keystone and B&O Divisions) and the Sunbelt Conference (Gulf Coast and Pacific Divisions).
We are a winter league. We draft in early September (around Labor Day sometime). Our season starts in October, lasting into April. We have now completed our third season, we have overcome several growing pains (theft & our own Black Sox scandal) common to new leagues that have strengthened the core of the league. We began our fourth season using the 1999 disk in the autumn of 2000.
For more information on the league, or to get on the waiting list for the league, you can contact the Commissioner, Jake Smith.

History of Baseball Replay
Mark Covey has taken over the Micromanager List. You can catch it on his web site.

APBA.zip
APBA.zip
Greg Nims' outstanding site for MM's, Stadium backdrops and other APBA goodies.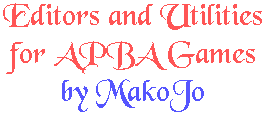 MakoJo's Web Site
Lots of utilities for all APBA games.